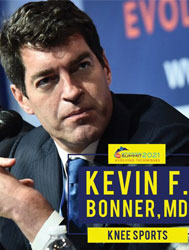 The Orthopedic Summit continues to be the premier gathering of Total Joint (Knee, Hip, Shoulder), Foot & Ankle, Sports Medicine, Arthroscopic, Spine and Trauma Surgeons, Physician Assistants, Nurse Practitioners, Athletic Trainers, Physical and Occupational Therapists from across the globe.
Dr. Kevin Bonner is serving as the Knee Sports Co-Chair in 2021.
He and other amazing faculty and leaders are teaching the most innovative procedures and techniques to advance orthopedic care for the future.