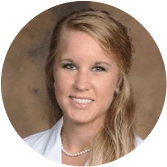 Cassandra Kelley, ATC, OTC
Cassandra Kelley, ATC, OTC
Education
Undergraduate Education: Bachelor of Science in Athletic Training; Slippery Rock University of Pennsylvania, Slippery Rock, PA
Graduate Education: Master of Science in Exercise Science with a concentration in Athletic Training; University of Toledo, Toledo, OH
Post-Graduate Residency: Athletic Training Residency Program, The Steadman Clinic and Steadman Philippon Research Institute, Vail, CO
Certifications
Board of Certification, Inc. Certified Athletic Trainer, 2014
National Board for Certification of Orthopaedic Technologists, Inc. Orthopaedic Technologist Certified, 2017
Medical Interests
Sports Medicine
Shoulder and Knee Arthroplasty
General Orthopaedics
Application of Evidence Based Medicine within Clinical Practice
Professional Associations
Virginia Athletic Trainers' Association
Mid Atlantic Athletic Trainers' Association
National Athletic Trainers' Association
Interests
Cassie enjoys spending time in the outdoors hiking, skiing, running and paddleboarding. She is a loyal Pittsburgh Sports fan and always supports the Steelers, Pirates, and Penguins. Cassie also appreciates a good book and a hot cup of coffee.
Responsibilities at Jordan-Young Institute
Cassie directly assists Dr. Samuel P. Robinson with patient care and education. As an athletic trainer, she specializes in the assessment, treatment, and rehabilitation of musculoskeletal injuries as well as injury prevention. She is a liaison between athletic trainers, physicians, physical therapists, patients, and Dr. Robinson. Cassie serves as an easily accessible point of contact for urgent and non-emergent situations and inquiries for better, effective, and efficient patient care. She assists in educating patients on their injuries, surgeries, recovery time, therapeutic exercise, and returning to full function.