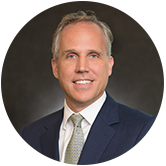 Louis C. Jordan, MD, FAAOS
Louis C. Jordan, MD, FAAOS
Orthopedic Surgeon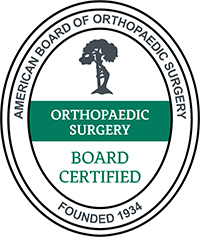 At the Jordan-Young Institute, Dr. Louis Jordan primarily specializes in the treatment of injuries and disorders involving the knee and hip. Dr. Jordan lives in Virginia Beach with his wife, who is a pediatrician, and their sons. He enjoys spending time with his family, as well as tennis, golf, and skiing.
Dr. Jordan is assisted by Tiffany Cambron, PA-C
Education
Undergraduate Education: University of Virginia, Charlottesville, VA
Medical Degree: Tulane University, New Orleans,
Internship, General Surgery: University of Virginia, Charlottesville
Residency, Orthopedic Surgery: University of Virginia, Charlottesville
Fellowship, Adult Reconstruction with concentration on total hip and total knee: Cornell University, New York, NY
Certification
American Board of Orthopedic Surgery, 2005
Areas of Specialization
Joint replacements of the hip and knee
Revision surgery of the hip and knee
Orthopedic afflictions of the hip and knee
General Orthopedics
Hospital Privileges
Awards & Honors
Top Doc in Orthopedic Surgery, as voted on by peers, Coastal Virginia/Hampton Roads Magazine, 2013- 2017, 2019, 2020,2021 and 2022
Professional Associations
Member, American Academy of Orthopedic Surgeons
Member, Virginia Orthopedic Society
Member, Norfolk Academy of Medicine
Member, American Medical Association
Member, Medical Society of Virginia
Publications
Hartzband MA, Glassman AH, Goldberg VM, Jordan LR, Crowninshield RD, Fricka KB,

Jordan LC

. Survivorship of a Low-stiffness Extensively Porous-coated Femoral Stem at 10 Years. Clin Orthop Relat Res. 2009.

Jordan L

, Kilgman M, Sculco TP. Total knee arthroplasty in patients with poliomyelitis. J Arthroplasty. 2007;22(4):543-8.
Jordan LR, Sorells RB,

Jordan LC,

Olivo JL

.

The long-term results of a metal-backed mobile bearing patella. Clin Orthop Relat Res. 2005;436:111-8.
Seldes RM, Winiarsky R,

Jordan LC

, Baldini T, Brause B, Zodda F, Sculco TP. Liquid gentamicin in bone cement: a laboratory study of a potentially more cost-effective cement spacer. J Bone Joint Surg Am. 2005;87(2):268-72.
Moskal JT,

Jordan LC

, Brown TE. The porous coated anatomic total hip prosthesis: 11 to 13 year results. J Arthroplasty 2004;19(7):837-44
Sculco TP,

Jordan LC

, Walter WL. Minimally invasive total hip arthroplasty: the Hospital for Special Surgery experience. Orthop Clin North Am. 2004;35(20):137-42.
Mierisch CM, Cohen SB,

Jordan LC

, Robertson PG, Bilian G, Didich DR. Transforming growth factor-beta in calcium alginate beads for the treatment of articular cartilage defects in the rabbit. Arthroscopy. 2002;18(8):892-900.
Diduch DR,

Jordan LC

, Mierisch CM, Balian G. Marrow stromal cells embedded in alginate for repair of osteochondral defects. Arthroscopy. 2000;16(6):571-7.
Presentations & Lectures
Bonner, KF.,

Jordan LC

, Olivo J, Voorhorst PE, Jordan L., Survivorship analysis of cementless mobile-bearing total knee arthroplasty: 9- 12 year follow-up. Poster Presentation AAOS 2005, Washington D.C.
Patient Reviews