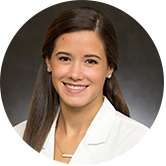 Sydney Campbell, MSEd, ATC, VLAT
Sydney Campbell, MSEd, ATC, VLAT
Education
Undergraduate Education: Bachelor of Science in Athletic Training; Longwood University, Farmville, VA
Graduate Education: Master of Education in Sport Leadership and Administration; Virginia Commonwealth University, Richmond, VA
Previous Experience
Prior to joining Jordan-Young Institute, Sydney was the head athletic trainer for Bishop Brady High School in Concord, NH. She comes to us now from Miami, Florida, where she was working as a physician extender with Miami Orthopedics and Sports Medicine. While there, she worked along-side orthopedic surgeons and Sports Medicine physicians for the Miami Dolphins, Florida Panthers, and Miami Heat.
Interests
In her spare time, Sydney enjoys playing volleyball, fishing, and spending time outdoors hiking and swimming. She currently lives in Chesapeake with her husband who is an active duty member of the United States Coast Guard, her son, and their dog.
Responsibilities
Sydney directly assists physiatrists, Dr. David Levi and Dr. Scott Horn.